SANKALP ORGANISES BLOOD DONATION CAMP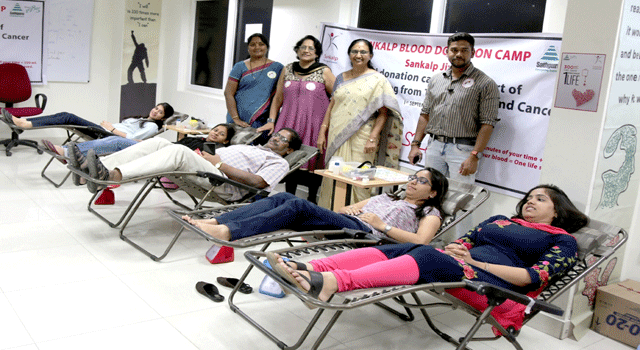 Sathguru Management Consultants had organized their Blood Donation Camp along with Aarohi Blood Bank as a part of their Corporate Social Responsibility initiative, 'Sankalp' at their local corporate office today.
The camp was organised with a view to save those lives who are in dire need of blood but couldn't get access due to lack of proper supply. It was overseen by a team of well-equipped and trained medical attendants and an enthusiastic Sankalp team who made all the necessary arrangements to ensure safety, hygiene and comfort of the donors.
The initiative had many members participating including employees and ex-employees of Sathguru, volunteers from other companies, spouses, friends and family members of the employees apart from participants from all across the city with an intention of contributing for the social benefit of those in need of blood.
The blood collected from this initiative will be supplied for free to the patients suffering from Thalassemia, a rare genetic blood disorder which is carried by 4 per cent of the population and children suffering from cancer.
Speaking on the occasion Raja Rajeswari, General Manager, Sankalp said, " Since 2007 we have collected more than 700 units of blood and support the cause.
We are very happy that many employees and non-employees of Sathguru Management Consultants have come forward to give hope to children fighting thalassemia and cancer. Every drop of blood counts to save a life. We believe that this initiative will stir up many such generous hearts to come forward and save the lives of many."
Source:
The Hans India
India CSR
City Air News
Press Media of India
NRI News
Crazyenews
Youth Mirror