Sankalp Siksha – Khan Paan Dukaan 2022: Food festival to support girl child education!
Sankalp is delighted to share that Khan Paan Dukaan – A fundraiser food festival to support girl child education held on 28 Nov 2022, surpassed all our expectations. True to its core, the food fest functioned as a great avenue in driving funds to educate, support, and empower young girls.
Girl child education is the need of the hour in the country, today more than ever. It's the only roadway for vulnerable girls to become empowered and make independent and informed decisions in life. Bearing this in mind, every year, Sankalp, the CSR arm of Sathguru organizes Khan Paan Dukaan – Food festival to support girl child education. It's a unique food festival where the associates of Sathguru cook and serve for the cause of improving access to education for vulnerable girl children and promoting awareness of child sexual abuse.
The event started off with Sathguru employees setting up food stalls with an assortment of mind-boggling gourmet dishes spread across a variety of cuisines. The menu featured delicacies ranging from spicy paneer tikka, pasta, varieties of rice, noodles, exotic range of dosas, manchuria, spring rolls to chat items like pani puri, dahi bhalla, bhel, and more. Refreshing drinks and desserts such as mocktails, fresh coconut water, brownies, jalebi, fruit salad, gulab jamun, ice-creams, and cold-pressed juices ensured that the visitors had a happy ending to their meals.
If you are starting to think that food was the show's highlight, hold on. While there's no denying that food was out of the world, there's more to the event that made it priceless. The stall owners went out of their way to market their dishes and lure more customers to their respective stalls while competing with their contenders. It was such a delight to see how Sathguru associates turned the event into an energetic and lively one with their strategic and enthusiastic moves. The food counters were bustling with the crowd who relished the food and refreshments and spent the afternoon reveling in the goodness of the food fest, knowing that they were standing up for a noble cause.
The event also witnessed Sankalp supported children exhibit their science models.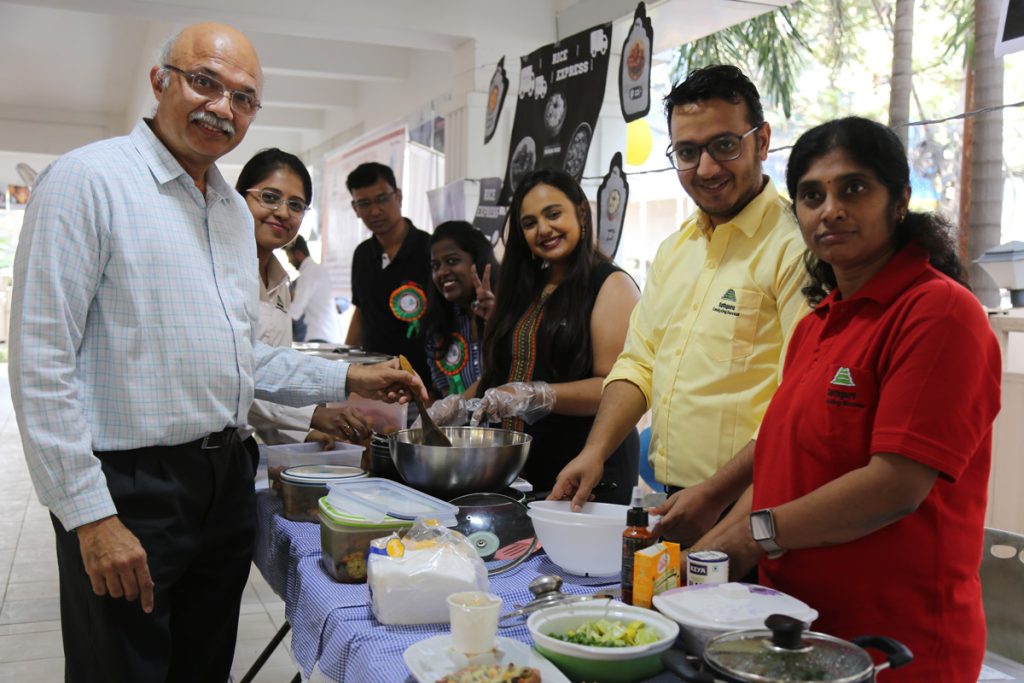 This facilitated the visitors and donors to interact with the children and get a peek into their talents. The children, too, had a great time, savoring food and chatting with visitors and donors.
Like every year, this year's event also saw a remarkable footfall of more than 1000 people. The fest saw an inflow of socially conscious people, including Sathguru staff, alumni, clients, family, friends, nearby corporates, and like-minded people from the neighborhood who joined us in supporting the cause. Besides the ones who actively walked in to indulge in the food festival, several others who couldn't make it to the event generously donated to the cause. This is a beautiful gesture that people feel responsible for creating better societies for children. Through the funds raised in the event and other donations, Sankalp will extend scholarships and support to more than 500 deserving girl children and conduct sessions to create awareness on the prevention of child sexual abuse in more than 15 schools.
Sathguru staff had an invigorating experience in volunteering for a social cause that can bring in a significant change in lives of girl children. The associates relished the event at full length, from planning what to dish out to serving the final food items and everything in between. The experience not only functioned as a hiatus from their everyday activities but also allowed interaction with visitors that nurtured their confidence and social agility which also enhanced their work-life balance.
The wholesome event came to a perfect end, with everyone savoring the hi-tea and wrapping up stalls, clicking pictures at the photo booth, and cheering the slogan 'Beti bachao beti padhao.' We are proud that Sathguru associates are not just subject specialists and business experts but socially responsible individuals and never turn a blind eye to the needs of vulnerable communities. The participants not only took food takeaways but also took home bundles of fond memories and an immense sense of pride and satisfaction for mobilizing funds to educate hundreds of girl children.