School construction project in Panyal Village, Hathnoora Mandal, Sangareddy
School facilities can have a profound impact on both teacher and student outcomes. Concerning students, school facilities affect health, behavior, engagement, learning, and growth in social and academic achievement. To teachers, school facilities affect in improving attendance, motivation, retention, commitment, and effort.
The primary school structure in Panyal Village, Hathnoora Mandal, Sangareddy is almost ready to collapse. There is a constant threat of ceiling collapsing putting in risk the very lives of the children. Since the building is not in a good condition, a clear order has been passed by the government to not conduct the classes in the damaged rooms, two classrooms have to be shut down leaving only two other rooms to be utilized for children of five classes. Due to lack of enough number of classrooms in the high school, even the high school children are seated in the primary school to take the classes. Hence, to adjust a large number of students in the less available space, two classes are organized at the same time in the same classroom. Sometimes children use verandah or the play areas.
This is affecting the concentration levels among the children and their overall educational experience.
The toilets in the school also suffer the same fate causing grave sanitation and health threats. The water supply to the school is minimal. The erratic electricity supply is disallowing to utilize any facilities to draw the water.
Sankalp is facilitating the school construction in Paniyal village and upon completion Sankalp will work for improving learning outcomes among children.
School Before Construction
School Under Construction
Quality school infrastructure for improving learning outcomes among children!
Heartfelt thanks to Aurobindo Pharma Foundation for sponsoring the construction of a new school building in Paniyal, Hathnoora Mandal, Sangareddy district, Telangana. As the primary school building in Panyal was dilapidated, Sankalp facilitated funding support from Aurobindo Pharma Foundation to demolish and construct a new school building. On 18.11.22, Shri TS Madan Reddy MLA Narasapur, Shri Rajarshi Shah IAS Sangareddy and Smt. Hemalatha Vijayaraghavan, Director Sankalp & CSFD inaugurated the school building. The new facility has five spacious classrooms, six toilets, 3 for boys and 3 for girls, a cemented playground, and a compound wall to secure children.
Education for Children with Special Needs Child
Sankalp as part of its endeavour to empower less privileged people, takes up initiatives to meet the immediate needs of people thereby the can regain and move on to reach their larger life goals. Sankalp organizes blankets to homeless in winter, donates medicines through health camps and groceries to needy communities. This year, Sankalp has taken up a unique initiative of reviving dreams of a child with special needs.
Reviving dreams of Durga Prasad
Hearing ability is critical to speech and language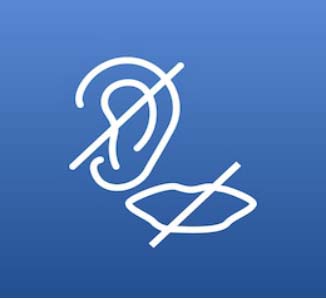 development, communication and learning. Hearing loss causes delays in the development of speech and language, and those delays then lead to learning problems, often resulting in poor school performance.
Durga Prasad, a 15-year-old student from class 10 is a child with hearing and speech difficulties. In addition to his hearing difficulties, he has a condition called tongue-tie which causes speech impairment and can be treated only when the hearing problem is sorted.
He has two siblings, Vishnu and Omlatha. Vishnu is mentally disabled since his childhood and needed more parental attention and medical care. Durga Prasad's parents are daily wage earners and in the process of catering to Vishnu, couldn't afford proper treatment for Durga Prasad.
Sankalp helped them in reaching out to the right institution – Ashray Akriti a school for hearing and speech impairment. Ashray Akriti provided the child with one hearing aid free of cost and gave treatment to improve his hearing. With the help from Sankalp and Ashray Akriti, Durgaprasad passed out 10th grade from Little Angles School, Yellmabanda, and Hyderabad.
Further, Sankalp facilitated him to enroll in Sweakar and Uppakar a college for hearing and speech impairment in Secundrabad to pursue his 11th and 12th grades. As his parents could not afford to pay his fee, Sankalp as a special case financially supported Durga Prasad's education and enabled him to complete his grade 11. He is now all set to move on to grade 12. We hope to see Durga Prasad reach his fullest potential in education and career and break the cycle of poverty that his family is going through.
Stationary support to government schools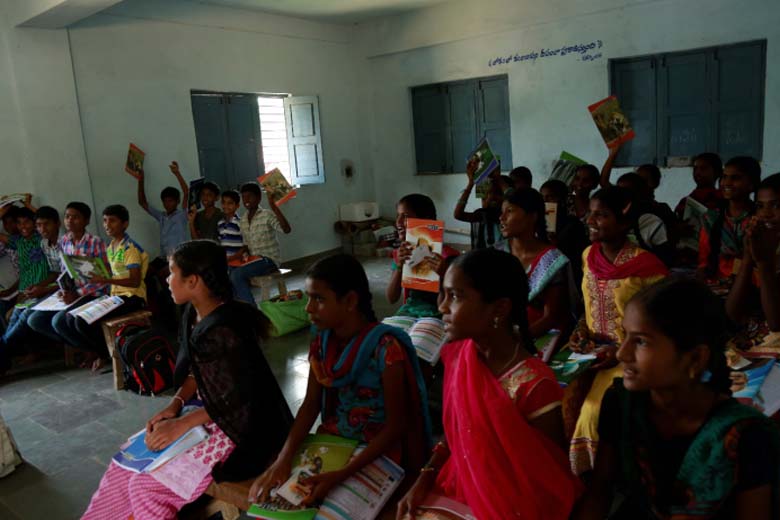 Sankalp provides stationaries to children of government schools in Hyderabad and in the districts.
Sankalp creates awareness of child sexual abuse through poster campaign
In the endeavour to keep children safe from sexual abuse, Sankalp, in collaboration with Laurus Labs Hyderabad and Dr. BR Ambedkar Educational Institutions reaches out to children with messages on the prevention of child sexual abuse (CSA) and life skills education through posters. Shri Jayesh Rajan IAS, Principal Secretary to Government of Telangana – I&C, and ITE&C has unveiled the posters on 13th April 2022 at Dr. BR Ambedkar's educational institutions in Baghlingampally, Hyderabad.