Sankalp creates awareness of child sexual abuse through poster campaign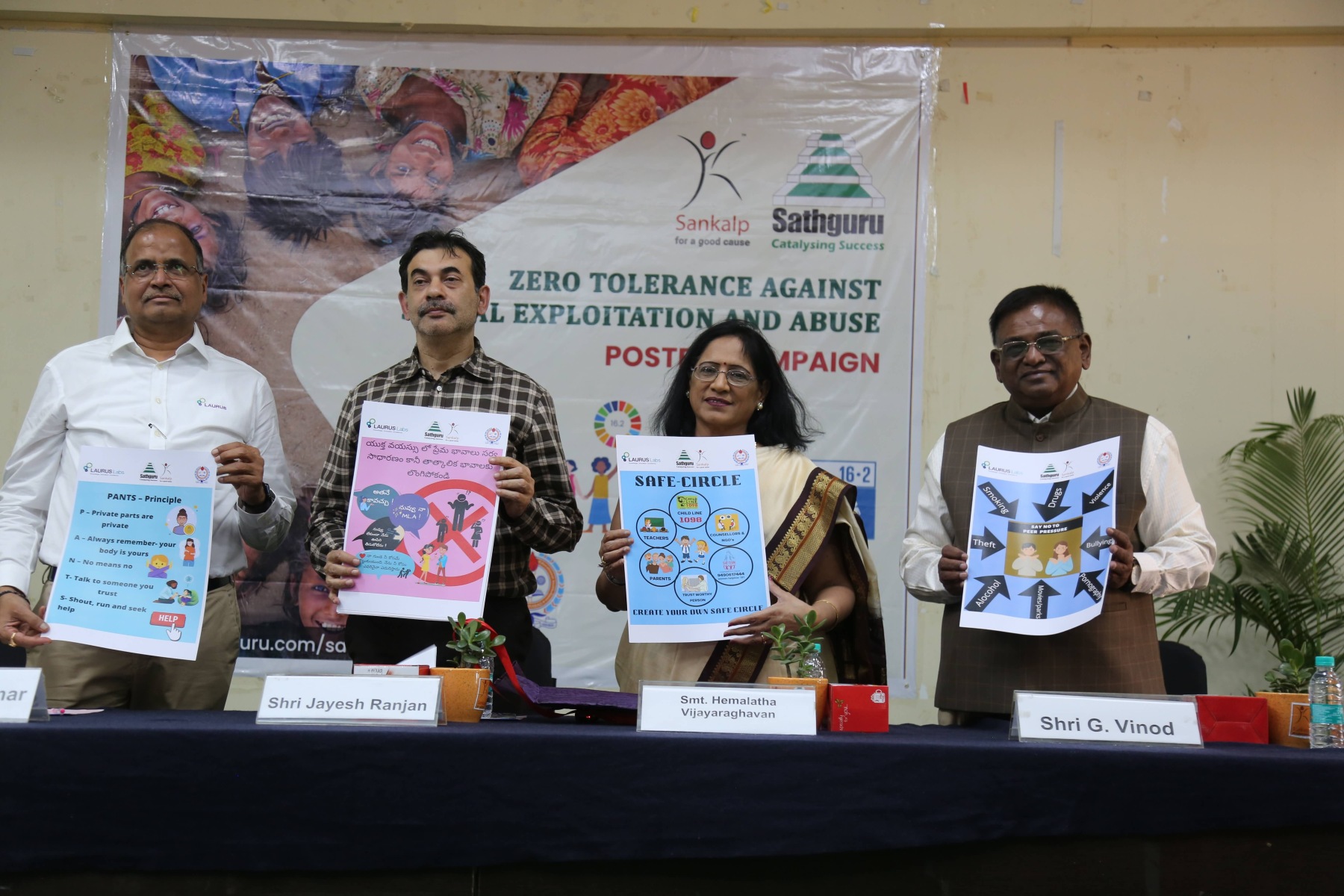 In the endeavour to keep children safe from sexual abuse, Sankalp, in collaboration with Laurus Labs Hyderabad and Dr. BR Ambedkar Educational Institutions reaches out to children with messages on the prevention of child sexual abuse (CSA) and life skills education through posters. Shri Jayesh Rajan IAS, Principal Secretary to Government of Telangana – I&C, and ITE&C has unveiled the posters on 13th April 2022 at Dr. BR Ambedkar's educational institutions in Baghlingampally, Hyderabad.
Posters have messages that educate children on child sexual abuse and life skills such as effective communication, decision making, respecting their bodies, handling peer pressures & teen crushes etc. These high-quality posters will be displayed in classrooms and the corridors reaching out to all students studying in Dr. Br. Ambedkar's Educational Institutions and Sankalp-supported schools in various locations in Hyderabad. It is expected that this poster campaign will retain the knowledge of prevention of Child Sexual Abuse (CSA) in the long run among the children, parents and teachers across Hyderabad laying a pathway for safer communities for children. This campaign will contribute to Sustainable Development Goal 16.2 which aims at Ending abuse, exploitation, trafficking and all forms of violence against and torture of children by 2030.
In India, child sexual abuse is one of the most deep-rooted social issues, and with the COVID-19 pandemic ruling over the entire world, the spike in the number of cases of child sexual abuse has become absolutely evident. In the COVID era children are spending twice as much time online as before making them vulnerable to online sexual abuse. Child line in India has received 92,000 SOS calls from children asking for protection from abuse and violence and this is just in the first 11 days of lockdown!! And needless to say, several cases might have gone and are going unreported.
Given the magnitude of the CSA, Sankalp a registered NGO has been working to combat CSA. Sankalp is committed to improving access to education for less privileged girl children and promoting safer communities for children. Along with providing scholarships to girl children to continue their education, Sankalp extensively works for the prevention of child sexual abuse by creating awareness through physical and virtual platforms and enabling children to Recognize, React, and Report abuse. Also, Sankalp creates awareness among parents, teachers, and communities at large, helps them understand the dynamics of CSA, winning the confidence of children, and strategies to respond to and report violence.
With the financial support of Laurus Labs, Sankalp has been organizing awareness sessions for children and teachers in Dr. BR Ambedkar Educational institutions on CSA and life skills. We have reached out to children from Class 6 to 12 with awareness sessions on child sexual abuse and life skills education to help the children understand what is happening to them and how to take action. With posters displayed in classrooms and common areas children can see and retain knowledge on CSA and life skills on daily basis and help young minds to make informed decisions.