Skill Building
65% of India's population falls under the working age group and are youngsters. Despite having a large abled population, the soaring figures of unemployed youth who couldn't be capacitated enough has had a damaging effect on the country's economic growth. Lack of suitable skills have hindered the prosperity of individuals belonging to this section of demography. The effective steps for poverty alleviation and development are education and skills building. Sankalp, under its programme 'Vivrithi' works towards providing the adolescent girls and women with suitable skills to improve their socio-economic condition. Under Sankalp- Vivriti, we are determined to provide means of livelihood to those who were forced to drop out of schools due to various stressful circumstances and make them ready for employment.
Clothes and Blanket Donation Drive
According to the 2011 Census, there are 1.77 million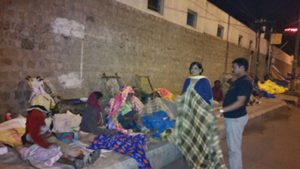 homeless people in India and the number is exponentially increasing every day. There is a severe shortage for shelter homes. The homeless are often the neglected and most vulnerable in the society. When cold winter night grips the city, the staff of Sathguru Management Consultants and Sankalp join hands together to distribute warm blankets to needy & shelter less street dwellers in the city. The initiative was started in 2011 and so far over 500 blankets are shared with the homeless every year. Also keeping up with the culture of bringing a smile on many faces,
Sankalp, under Vivriti donates clothes in huge numbers on the last day of every year, enabling the unprivileged to begin the New Year on a happy note.
Sankalp vivrithi - Blanket Donation drive