Sathguru is Great Place to Work-Certified™ Sixth Time in a Row!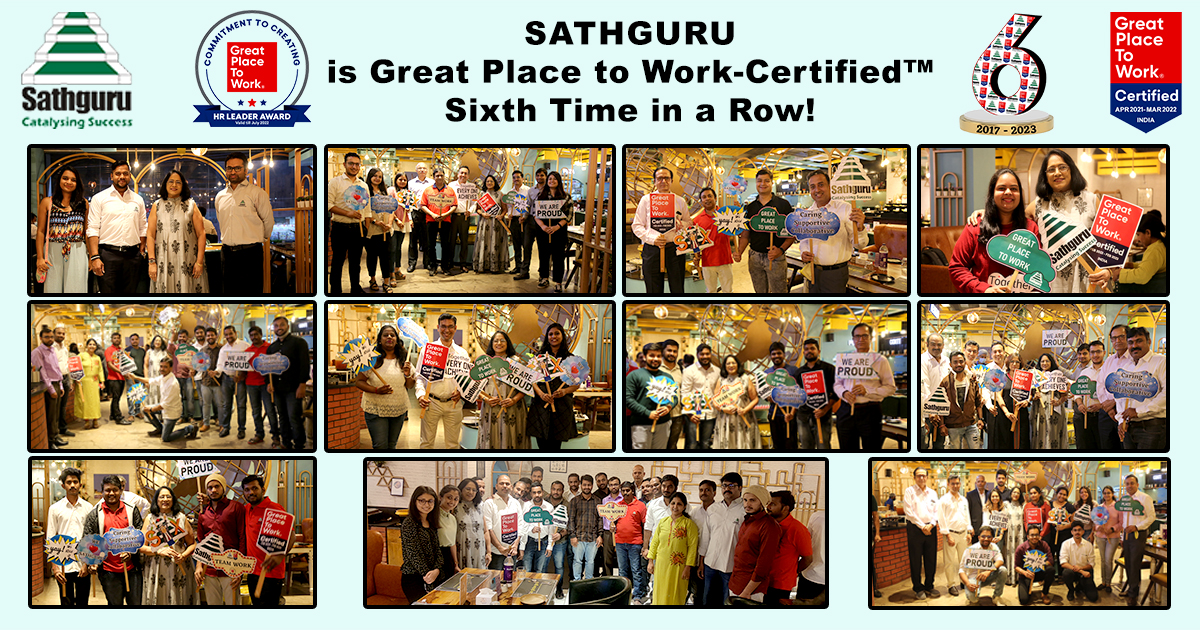 Good Work Culture Never Goes Unsung. Sathguru Management Consultants is certified as Great Place to Work® 6th time in a row and it's no surprise. Sathguru's High-Trust, High-Performance™ got recognized again by a process that is recognized as the gold standard worldwide.
Sathguru is one of the boutique advisory firms in India that combines industry-leading strategy, corporate finance, M&A, and innovation practices in health care and life sciences. Sathguru is also recognized for its differentiated international development practice known for its unique model of innovation-led development. Sathguru's software products group focuses on innovative cloud-based ERP products. Partnering with Cornell University, an Ivy League University, Sathguru offers Executive Education programs tailored for executives globally, to help catalyze their strategic leadership through innovation drivers in emerging markets. Sathguru's CSR initiatives like Sankalp (focusing on Girl Child Education & Safety) and CSFD (aiming at Sustainable Agriculture and Rural Development), encourage its employees to join together and contribute to philanthropic goals and social causes.
The 35-year-old global management consulting firm takes pride in receiving Great Place to Work™ certification continuously for 6 years and believes that the amazing work culture and seamless support it provides to the employees never goes unrecognized. This certification is a reward for Sathguru's excellence in work culture, trust, camaraderie, maximizing human potential, values, and leadership effectiveness.
"Together we co-created this trust and nurtured it to scale up to new heights every time and this reinforces the fact that we at Sathguru are always valued and recognized for our great work culture", says Hemalatha, Founder Director of Sathguru Management Consultants. "I am glad to share that our score on all fronts has also leveled up exceptionally which talks about Sathguru's culture loud and clear," she adds.
Great Place to Work® is the global authority on workplace culture. Since 1992, they have surveyed more than 100 million employees worldwide in more than 60 countries and used those deep insights to define what makes a great workplace: trust. Their employee survey platform empowers leaders with the feedback, real-time reporting, and insights they need to make strategic people decisions.
Sathguru makes sure to foster a flawless work-life balance for its employees with a perfect blend of challenging assignments and client interactions drawn from across the globe. The employee-connect activities, wellness programs, knowledge & life skills enhancement initiatives by Sathguru bring in the much-needed bonding among the employees across various divisions and the extended Sathguru family as well.
Sathguru strives to mentor its employees to become the best leaders with excellent guidance, training, and resources. The employees at Sathguru are always encouraged to come up with new ideas, strategies, and better ways of doing things. Providing equal opportunities for everyone in every aspect at work, Sathguru is a safe and equitable workplace for all genders and cultures. This phenomenal work culture percolates to all the employees who take pride in being a part of the Sathguru family.