Women's Day 2022 – Celebrating the Sathguru Shaktis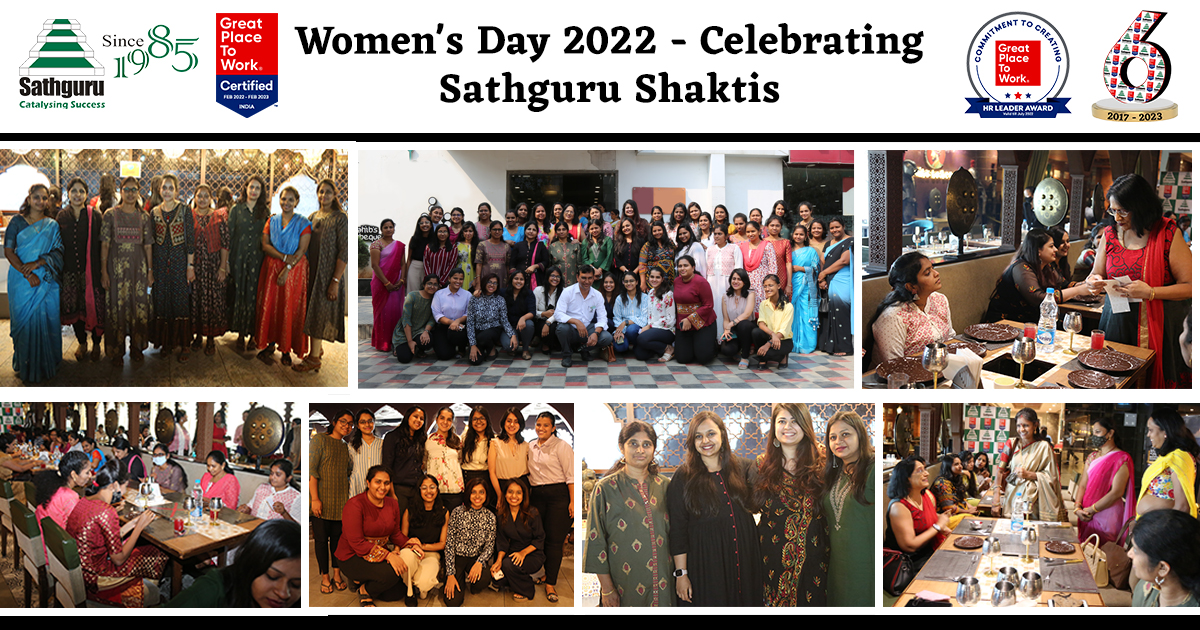 Sathguru celebrated Women's Day with great resplendence. At a place like Sathguru Management Consultants, where every employee feels seen, heard, and appreciated equally regardless of gender, every day is Women's Day. But a special occasion like this dedicated to women, deserves to be celebrated with  Sathguru shaktis – the fiery women of the Sathguru family. So, Sathguru went ahead to endow an incredible experience on the special day for all its women employees along with the spouses of male employees.
Women's Day marks a call to a gender-equal world. A world free of gender bias, patriarchy, and gender stereotypes. A diverse world where gender differences are valued and celebrated. We live in a society where gender equality is still a luxury in most facets of our everyday lives. While the scenario is getting better with time, we still have a long way to go. Thanks to social media which has paved a path for open conversations on gender equity, inclusivity, and other issues in the gender space. A few years down the line, let's hope to see a society entirely free of gender bias at workplaces, households, and in every walk of our lives.
Sathguru is one of those organizations where employees are bestowed with top-tier treatment professionally and personally. It provides equal opportunities for all genders in every aspect at work, starting from hiring to offboarding and everything in between.
36% of the Sathguru's inspiring team are women employees. 
15% of these amazing women are in leadership roles. 
65% of the Tax and Audit division is led by women financial wizards. 
100% of the Health Care Consulting division is driven by incredible women.  
40% of the Board of Directors are led by dynamic women. 
These numbers are enough to validate the excellent gender-inclusive work culture at Sathguru.
Women's Day 2022 Celebrations at Sathguru were nothing short of perfection. Sathguru shaktis got dressed in their best outfits for the day oozing confidence and power. The event started off with a fun tambola game in the central dining area at Sahib's Barbeque. Everyone played the game screaming in joy and cheering the winners who received amazing skin and beauty products as gifts. It's always the little things that give us the most worthwhile memories, isn't it? The event then furthered into a lavish brunch with the best of food. From smoky barbecued chicken and paneer to one-of-a-kind ice creams, the meal was a treat to tastebuds. And having such amazing food while chatting with fellow female powerhouses elevated the whole experience to another level.
This was not the end. Later in the day, an informative chat session on skin and hair care was organized. In this session, guest speakers who are doctors specialized in skin and hair fields were invited to throw light on the common issues women face regarding hair and skin health. Different technologies and procedures employed in skin and hair treatments were addressed in great detail. The session ended with an empowering note from the speakers on how women should focus on self-love and wear confidence as an accessory every day.
Women's Day Celebration was an amazing experience of bonding for all the Sathguru Shaktis. At Sathguru, women are celebrated every day. For without women and their divine energy, the world is incomplete.