Chat Time with Dr Tanuja to Enhance Our Smile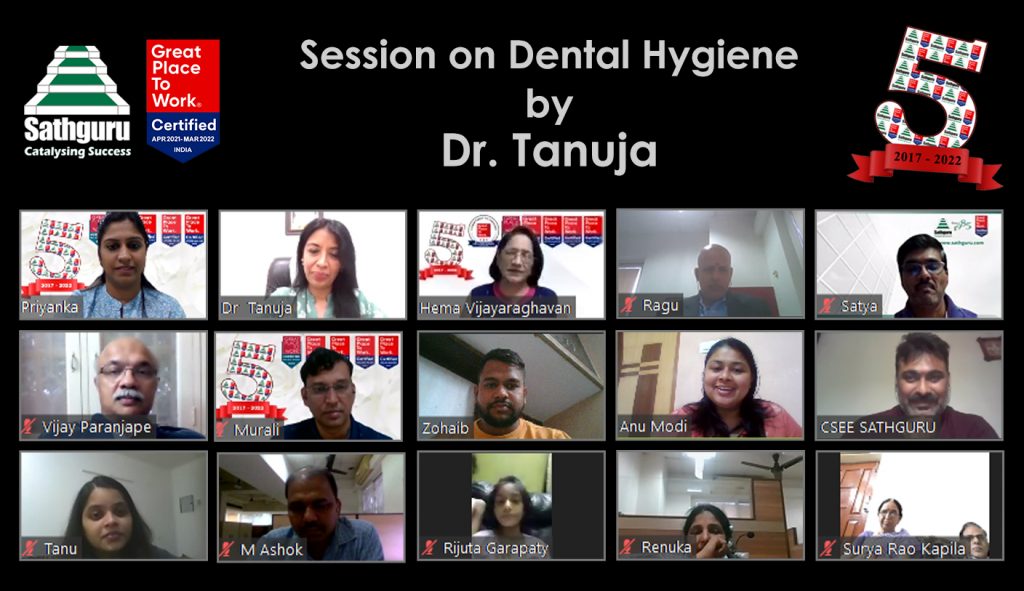 While your dentist probably isn't on the list of people you miss while surviving the COVID 19 pandemic, there's a good reason you should be thinking about when you should get the next dental check-up.
That's because dental health problems don't stop for a pandemic and smiles are priceless !
On a fun-filled Friday evening, Dr Tanuja Khurana was invited for an exciting conversation about dentistry. The session helped improve and inform Sathguru associates and their family members about their dental health & hygiene.
Dr Tanuja has been practicing dentistry since 1999 and is extremely proficient in her field. She has specialized in endodontics and has extensive experience in clinical dentistry for more than two decades. Her professional expertise extends into prosthodontics and periodontics, implants and cosmetic dentistry.
After a warm welcome, Dr Tanjua Khurana showed the attendees a quick video on the connection dental hygiene has to our daily lifestyle and health by the NHS and then continued to talk about how very often, people avoid going to the dentist until they feel the pain. She strongly suggested that everyone should consult their dentist at least once or twice a year.
She further went on to elaborate on the proper time and method to brush. She enunciated with lucid example the little known facts about brushing at night and strongly recommended it to be a regular habit. She also emphasised on brushing the teeth with plain brush before using toothpaste to keep the teeth cleaner. She then detailed the proper usage of various dental hygiene tools- explaining the best mouthwash to use for regular cleansing, for when teeth are hurting etc. as well as the best method to use floss.
She discussed the process of tooth decay and detailed the methods of preventing and treating it. And finally, she touched upon oral health maintenance for children. She elaborated on the course of action when children hurt their teeth, when a permanent tooth erupts along with a milk tooth, when a child is born with a tooth and the best time to shape their teeth…
The presentation closed off with an interesting and interactive question and answer session.
Our associates and their families had an informative experience as they enthusiastically participated during the session. We thank Dr Tanuja for her invaluable insights that will help us have a healthier and sparkling smile !
At the end of the day, it's a healthy smile that matters !
Let's stay safe, stay healthy and stay connected 🙂