Winning against COVID- Vaccination Drive @ Sathguru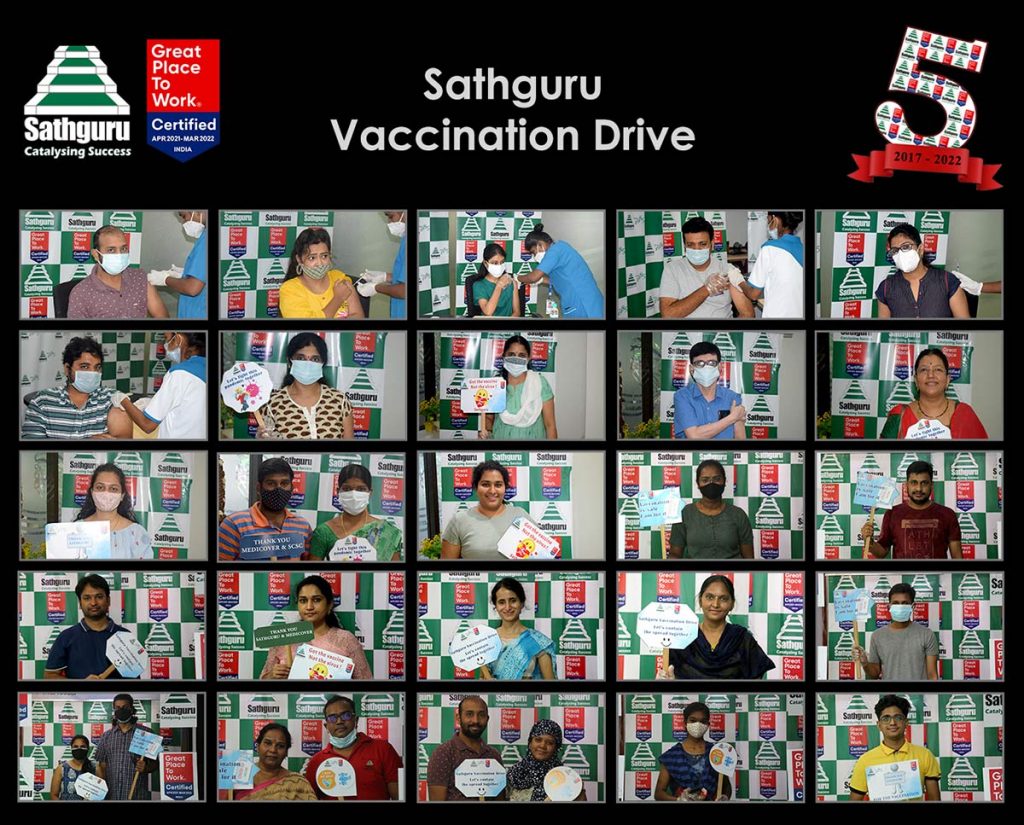 Last few months have been quite challenging for all with the second wave taking away many precious lives. What stood strong all through was Sathguru's determination towards prioritizing the wellbeing of their most important asset – Sathguru's family members.
Safety at Centre Stage
For Sathguru, the safety of the associates and their family members is of paramount importance. This spurred the motivation to conduct the vaccination drive at the company's Banjara Hills premise, for the associates, their family members, alumni, friends and relatives. In a bid to contain the spread of the deadly coronavirus, the second vaccination drive was conducted on 10th July 2021 to further ensure the safety of the associates and the community.
"Drive" to Safety
The drive was smoothly executed following all health and safety norms. The drive was planned meticulously, facilitating seamless registration and slot allocation, avoiding overcrowding and maintaining social distancing. All COVID- 19 protocols were diligently followed – right from the entrance & waiting area, registration & vaccination process to the safe exit.
Towards a Hopeful Future
As India continues to battle the Covid-19 crisis, thoughtful efforts by organizations like Sathguru bring new optimism & confidence. Director of Sathguru Management Consultants, Hemalatha Vijayaraghavan asserts the need to break the chain of the pandemic together and support each other to help the nation come out of this crisis and says, "Taking this endeavour further, Sathguru is also ensuring that every resident is vaccinated in the villages adopted by us in Telangana."
This wellness initiative was a timely precautionary action to reduce the impact of the third wave that is lurking round the corner. Vaccinated India is safe India and Sathguru is proud & glad to have contributed to the cause by shielding the associates and the society against the potential threat of the third wave.
Sathguru extends heartfelt gratitude to Medicover hospitals and their selfless team for their contribution in the successful execution of the vaccination drives.