Digital Marketing- The Ever-Evolving Phenomenon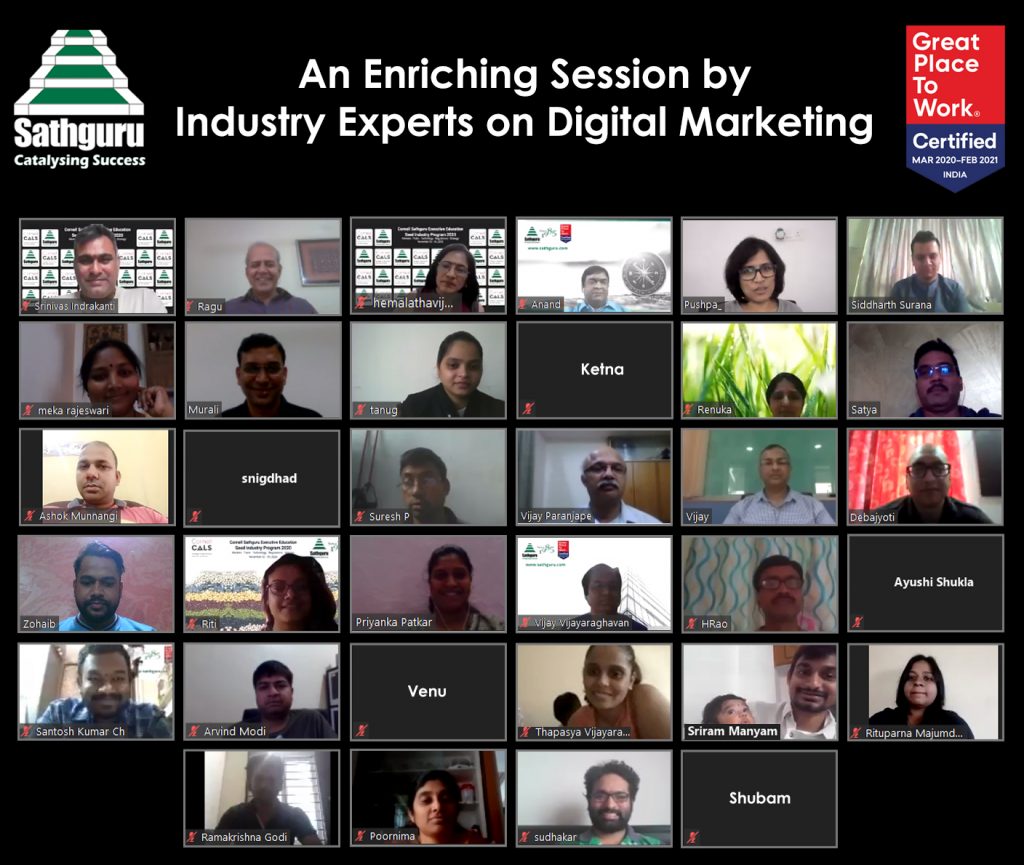 As an effort to keep up the environment of continuous learning, Mr. Vijay Pasupulati and Mr. Debajyoti Sharma from GreyCampus shared their experience and knowledge with the senior associates of Sathguru on strategies and tools to create successful digital marketing plans through an engaging session on December 12, 2020.
GreyCampus is a an online education company specialized in training high-end technologies and is the brainchild of Mr. Vijay Pasupulati who comes with more than 24 yrs. of vast experience. Mr. Debajyoti Sharma, Director-Marketing in GreyCampus, is a seasoned Business Development professional with 15 yrs. of rich experience.
Though Digital Marketing had its footsteps around 90s, it became the most talked about phenomenon since the last decade as branding and marketing took over the digital space. Marketers saw it as a lucrative opportunity as people started socializing digitally with the advent of social apps and also organizations started exploring CRMs and other digital platforms. Though digital marketing is ever evolving with new avenues opening up with each passing day, Vijay and Debajyoti shared their experiences in exploring various strategies and their take on marketing intelligence tools that have been effective for brand building.
The virtual session by the stalwarts focused on use of technology in both strategy and implementation of digital marketing. As put in rightly by Vijay, a proper blend of tactical and strategic initiative is key to an effective digital marketing. There were discussions on the right approaches, effective investments and key factors of reputation management through digital marketing. A deep-dive into the analytics and the marketing intelligence tools made the session more comprehensive.
It was an extremely interactive session with a flurry of questions coming in for the speakers. The session turned out to be extremely engaging as digital marketing is of relevance for almost every associate across divisions. This was an opportunity for all to gain in-depth knowledge from the experts about digital marketing which has almost taken over the world. This session ensured the continuity of the legacy of learning and development that has been in the basic DNA of Sathguru.