Celebrations for New Beginnings – Virtual New Year bash with Sathguru family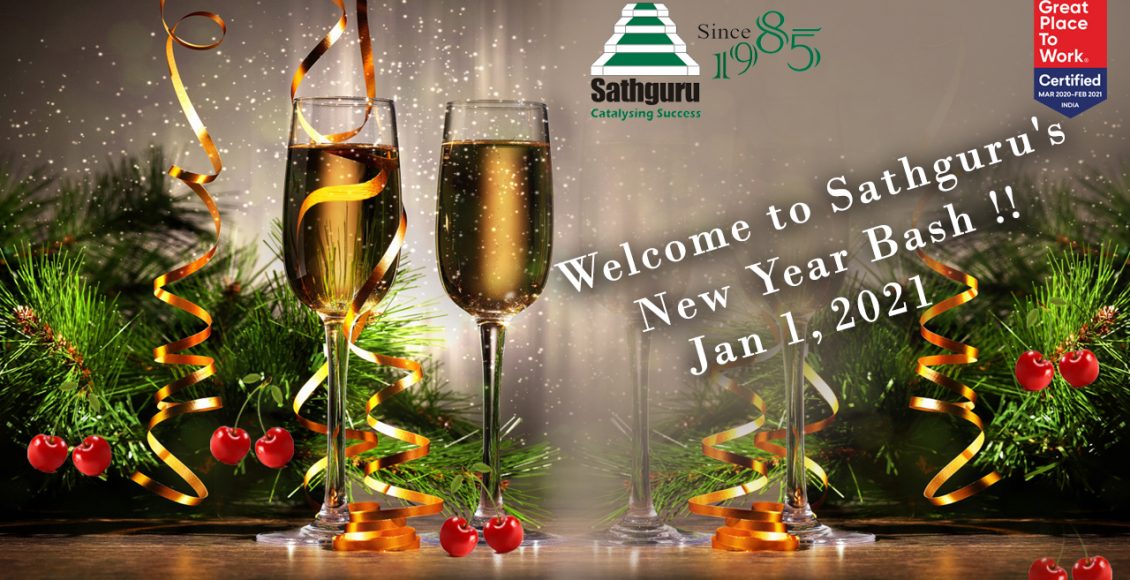 Sathguru ushered in a new year with new hope, new aspirations and new excitement, keeping aside a not-so-good year. It was a gala celebration on the evening of January 1 which witnessed enthusiastic participation of all the Sathguru associates and their family.
As a part of Sathguru culture, thanking and acknowledging each other is a tradition here. What other occasion can be apt than Christmas and New Year for expressing our gratitude? The associates gift each other every Christmas brightening up the festive season for their colleagues. It is a great fun filled event every December, where the associates play as Santas for each other and every associate gets a surprise goodie.
This year was no different though we all connected virtually. Normally we do not know who our Santas are, but this year we had a fun event where all the associates had to choose a Santa for their colleagues hidden beneath a celebrity image. It was a jolly event where we all had a sneak peek into each other's celebrity crushes.
The evening of January 1 started off with a warm welcome, wishing each other and unboxing of the gifts we received from our Santas; a follow up of the 'unveil your Secret Santa' event that we had a couple of weeks ago. We unboxed our goodies that came with lovely little notes attached to them making the evening more happy and gleeful.
The excitement continued with a fun game – truth and dare. Two virtual spin-wheels, spinning our names and fun activities, kept the audience entertained and amused.
Some had to tackle funny questions like 'how many days they had been without showering' or 'how many times had they re-gifted a present' or described someone else while the other guessed. Some had to moonwalk back to their seats, while some had to dance without music or sing with water in their mouth. The event raised the spirit of the evening even further as it created exciting moments where the associates had to perform activities that they have never done before.
As a part of the celebration, cake-cutting ceremony was organized at our office premises that took us closer to our memories of working from office. Though we couldn't get a bite of it but the cake definitely looked delicious.
With hope in our hearts for a better year ahead and creating a memorable evening for all, there was a surprise that brought in all the musicians of Sathguru family together. A musical album was launched that captured the essence of each month musically and linguistically. Each month was felt through the musical renditions and the sweetness of the diverse languages added to the melody of the music videos. The mellifluous performance startled all of us and took the celebrations a few notches higher.
We all literally danced into 2021 with electrifying beats and foot tapping. The spirits were pepped up and everyone was in their dancing shoes enjoying and cheering the virtual DJ music. The DJs rendered hit numbers and were flooded with requests from the associates who joined the celebration with their families.
Just as the evening danced through the mesmerizing music, may the positive vibes and high spirits prevail throughout the year. Here we are stepping into one more year with renewed hope, aspiration, prosperity and success. Wishing everyone a very happy New Year.