FSBR Eggplant Technology Transfer Agreement Between Mahyco, UPLB and Sathguru to Facilitate Commercialization of Bt Eggplant in Philippines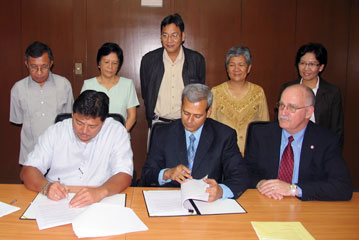 The technology transfer agreement for Fruit and Shoot Borer Resistant (FSBR) eggplant was signed on January 30, 2006 at the Office of the Chancellor, University of Philippines, Los Banos (UPLB) to facilitate the commercialization of the Bt Eggplant varieties in Philippines.
The agreement between the Maharashtra Hybrid Seed Company (Mahyco), UPLB and Sathguru Management Consultants will help expedite the transfer of seeds of the crosses produced between the Mahyco Bt parental line and selected Philippine varieties.
Chancellor of the University of Philippines, Los Banos Rey Luis I. Velasco signs the technology transfer agreement between UPLB, Mahyco and Sathguru in the presence of ABSPII co-director Dr. Ronnie Coffman, ABSPII south Asia regional co-ordination office representative Mr. K Ragunathan, ABSPII South East Asia regional co-ordinator Desiree Hautea and other UPLB members.
The agreement was signed between Mahyco, the technology donor, represented by its Director for Research Dr. Brent Zehr, Sathguru Management Consultants Private Limited, as technology facilitator, represented by its Director Kannan Ragunathan, and UPLB, represented by its Chancellor Rey Luis I. Velasco. Dr. Ronnie Coffman, co-director of ABSP II and director of the International Programs of the College of Agriculture and Life Sciences, Cornell University, and Dr. Desiree Hautea, director of the Institute of Plant Breeding, UPLB and ABSPII-Southeast Asia Regional Coordinator were present on the occasion.
Among several important personalities present during the ceremony were Dr. Cecilio Arboleda, Executive Director of UPLB – Foundation Incorporated, Dr. Enrico Supangco, Vice-Chancellor for Research and Extension, Dr. Rita Laude, Vice-chancellor for Instruction, Dr. Florinia Merca, Director of the Office for Institutional Linkages, and Professor Stella Tirol, Director of Public Relations.