53% of the children have endured sexual abuse in India. According to the National Crimes Record Bureau (NCRB) the crime against minors is the highest in the country and the CSA is increasing at 48% every year. It also reported that for every 15 minutes, one child in India is abused (NCRB, 2017). The most susceptible children are those falling under the 3yrs – 16yrs age group, children from lower socio-economic backgrounds, the physically and mentally disabled children and children from disturbed families. While all the genders are vulnerable to CSA, the girls are more susceptible to this nature of the crime.
It can take the form of physical harassment, online harassment, sexual abuse, rape and exploitation of children, trafficking, prostitution and pornography. It is understood that children are vulnerable to such abuses in schools, streets, public transport and most vulnerable at home where the perpetrators are their family members. Such kind of violence is believed to leave serious short and long term psychological, physical and social consequences not only on the children but also the families of the children who endure such violence.
The majority of perpetrators are someone the child or family knows and takes advantage of a child's vulnerability. Since most of the time the perpetrators are well known to the family, children do not report the matter to anyone or sometimes abusers manipulate victims to stay quiet about the sexual abuse using several different tactics. Although legislations are available to deal with CSA, it is often hidden, goes unrecognized due to social stigma, honor, indignity, denial from the community.
Awareness is one of the most powerful weapons against child sexual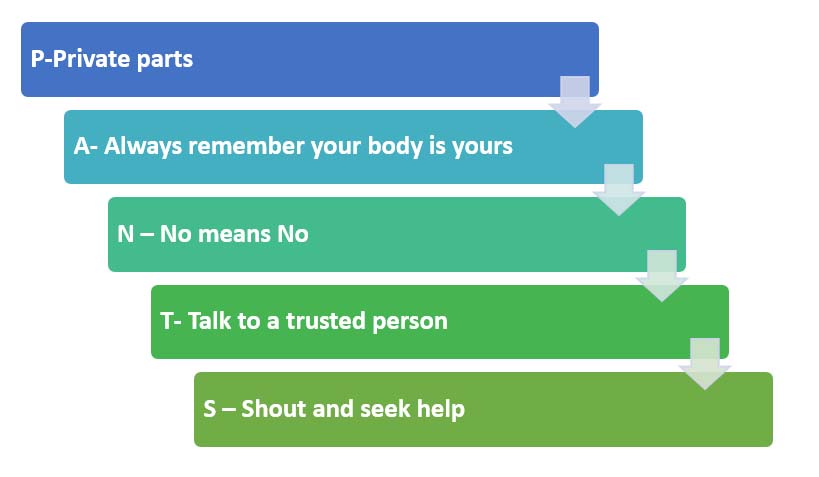 abuse. Sankalp in the year 2016, has developed and initiated a project called Project PANTS. The project aims to facilitate stakeholders to Recognize, React and Report (3Rs) Child Sexual Abuse. These sessions are conducted in the play way method with activities that will enable children to understand their bodies, safe and unsafe touch, perpetrators of violence, developing support systems, and self-protection.