NOT LETTING THEM DROPOUT – SHARVANI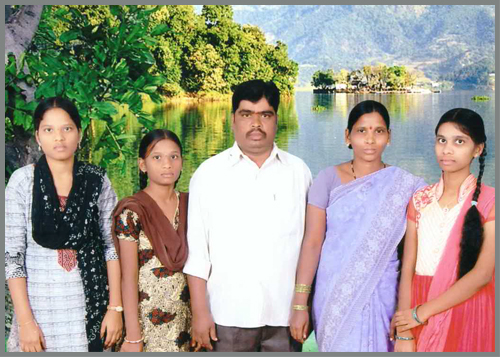 Ramulu and Iswaramma, are parents of 3 children and were working as causal laborers. The family was happy until Ramulu was diagnosed with serious kidney ailment and needed transplant immediately. Iswaramma donated her kidney and was happy that she could save her husband's life. Couple were advised not to take up any laborious tasks till their condition heals completely. While they were happy that their health issues are sorted, their inability to work has taxed family wellbeing, children education and their future.
Parental illness has set education of 3 children at risk. To start with, their eldest daughter Maheswari despite passing class 12 and being ambitious to purse her graduate program, has forced herself to drop college and take up job in tailor shop as assistant to support the family. Maheshwari's salary is only the source of income to the family which just sufficient for food.
With limited income schooling of Sharvani, studying in class 9 and Gayathri studying in class 4 are at stake. Sanklap has identified the need for intervention and started supporting Sharvani and Gayathri under 'Sankalp – Siksha'.