Women's Day 2023 – Celebrating The Sathguru Shaktis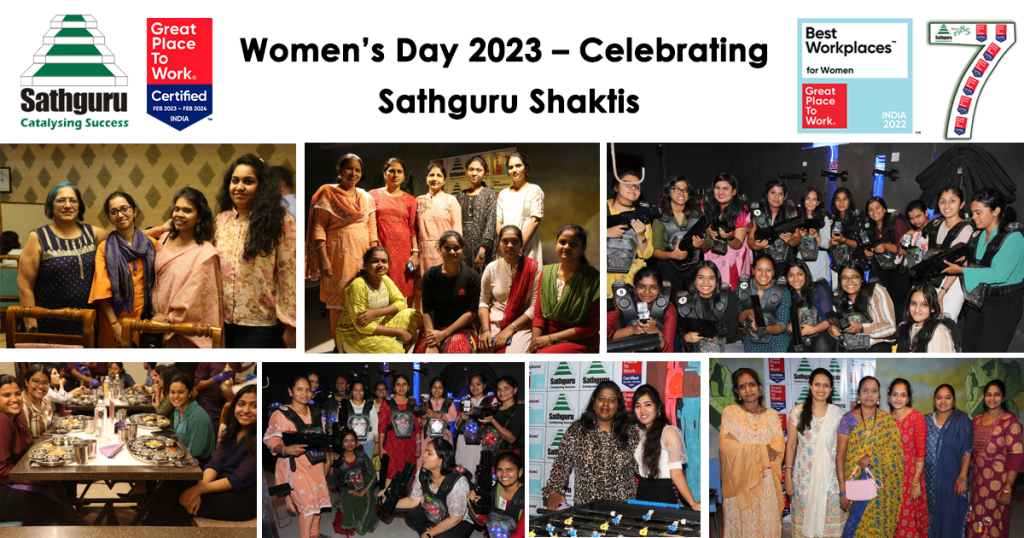 At Sathguru, we embrace equity, diversity and above all we believe in inclusion. We don't just make noise about it. We practice it! It's not a policy here…It's by choice and It's our culture.
Over the last 38 years, we have been fostering a positive environment, enabling Sathguru Shaktis to demonstrate their woman power at work.
Women at Sathguru are celebrated every day but Women's Day reminds us of how much we owe to them. Not just the role of a sister, daughter, mother or partner, women play multiple roles even as colleague, team members, team leads and many more adding invaluable contribution to every role.
While it's a daily routine to respect and recognise Sathguru Shaktis, we love the idea of celebrating this dedicated day by sharing unconditional love and spreading the joy of giving wings to our female colleagues along with the spouses of the male associates to step forward and live every moment of this day.
Our celebration started few days ago when our associates penned their thoughts, appreciating woman colleagues who inspire them the most. Our Sathguru Shaktis added colour to this day as they dazzled in their best outfits, making things brighter around them with their innocence, charm and elegance.
The event kick-started with a session by Dr. Kameswari Surampudi, Consultant Gynaecologist & Obstetrician and Head – Department of Gynaecology @ Fernandez Hospital, who enlightened us with her commendable talk on "Gynac Well-Being for Young Woman".
She walked through with ease on the critical pointers; like fibroids, dealing with them during different phases of life, how important it is to get the pap smear tests done, cervical cancer, PCOD and its pre-conceived notions, period cramps and last but not least balancing the right portion of diet to lead a healthy lifestyle. This session immensely benefitted our female colleagues, spouse of our male associates, relatives, and our alumni too.
This was just the beginning, what next?? We desired our Sathguru Shaktis to come out of their routine, pamper themselves to the fullest and enjoy what they love to. To give them a thrilling experience, we invited them to "Laser Shooter" located in the heart of the city.
Woohoo! What happened inside the laser shooter? The fierce battle commenced with each one shooting their partners with laser guns in the dark room, while others were trying to escape and hide. At the end of the game every one were provided with individual and team scorecards with the highest scorer for the game.
Oh! Did it end just there? No, the actual excitement began when our Sathguru Shaktis received their share of " Zumi Thandai" boosting their energy levels to the peak.
Nothing brings people together like good food and that was an impeccable idea to end the celebrations, with everybody getting indulged in the heavenly combo of Rajasthani & Gujrati cuisines enjoying pure bliss in every bite.
A few lip-smacking dishes to mention, a scrumptious combination of baked bati, dipped in ghee, Barsa Dola, Maharaja Dhokla, Dal Baati Churma, Surti Undhiya dhokla, khichidi and many more to continue. All the dishes were served with a free flow of love & ghee.
The food was hearty and delicious. To end on a sweet note, there was Malpua, Malai Kulfi, Moong dal halwa and Jalebi with Rabri. The desserts were delightful indeed.
It was a great time for all the spouses & our female associates to interact with each other and not missing an opportunity to get clicked and framed and of course not missing on the selfie time too.
Sathguru truly celebrated the essence of incredible woman, giving our Sathguru Shaktis the best they deserve!