Valentine's Evening at Sathguru – A Sneak Peek into the Love-filled Event!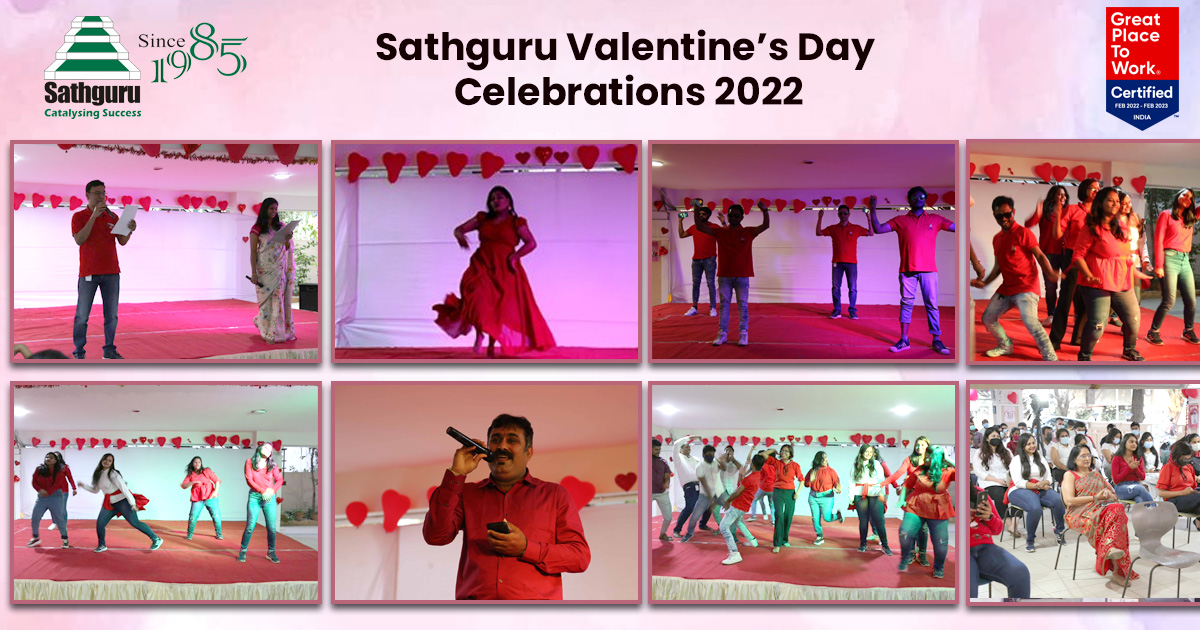 A day with different cultures and traditions of its own, Valentine's Day is celebrated to express love and affection to each other. When it comes to celebrating love and togetherness, Sathguru never steps back. What an evening with Valentine-themed décor, a fun photo booth with quirky props, rejuvenating refreshments, and above all, entertaining performances from the associates of Sathguru. Team Sathguru had a blast spending time with their colleagues and rejoicing themselves with activities that lit up the stage.
The event got off the ground with a romantic shayari that cheered everyone in the audience. That was a perfect start to the evening. It was followed by an interesting multilingual mix of songs describing the stages in a love story. The performance was so delightful that it left the audience in awe.
A sizzling dance number by one of our associate's daughter completely stole the show. It was a pleasant surprise to all the employees including her father. This has to be the cherry on top for the evening! It didn't end there. The event furthered into a melodic love song that set the tone for the musical evening. And guess what was next? A series of energetic dance performances that made everyone tap their feet. From solo to group, funny to romantic, there were dance performances of all sorts. A thoughtfully choreographed act focusing on the importance of wellness was another hit of the event.
All the employees came dressed in red and white for the day to keep up with the event's theme. The meticulously custom-crafted stage area, decor, photo booth, and entire setup elevated everyone's mood. What's a celebration without yummy refreshments? Well, we have got that covered too. While the associates were busy relishing the performances, a box of yummy goodies greeted each one and made the evening even more refreshing.
As soon as the performances came to an end, everyone hopped onto the stage and started swinging their bodies to DJ beats and party songs which marked the end of the super fun and lively evening. The event functioned as a pause from everyday routine for all the employees to whoop it up and enjoy Valentine's Day celebrations together at Sathguru.