Father's Day Celebrations @ Sathguru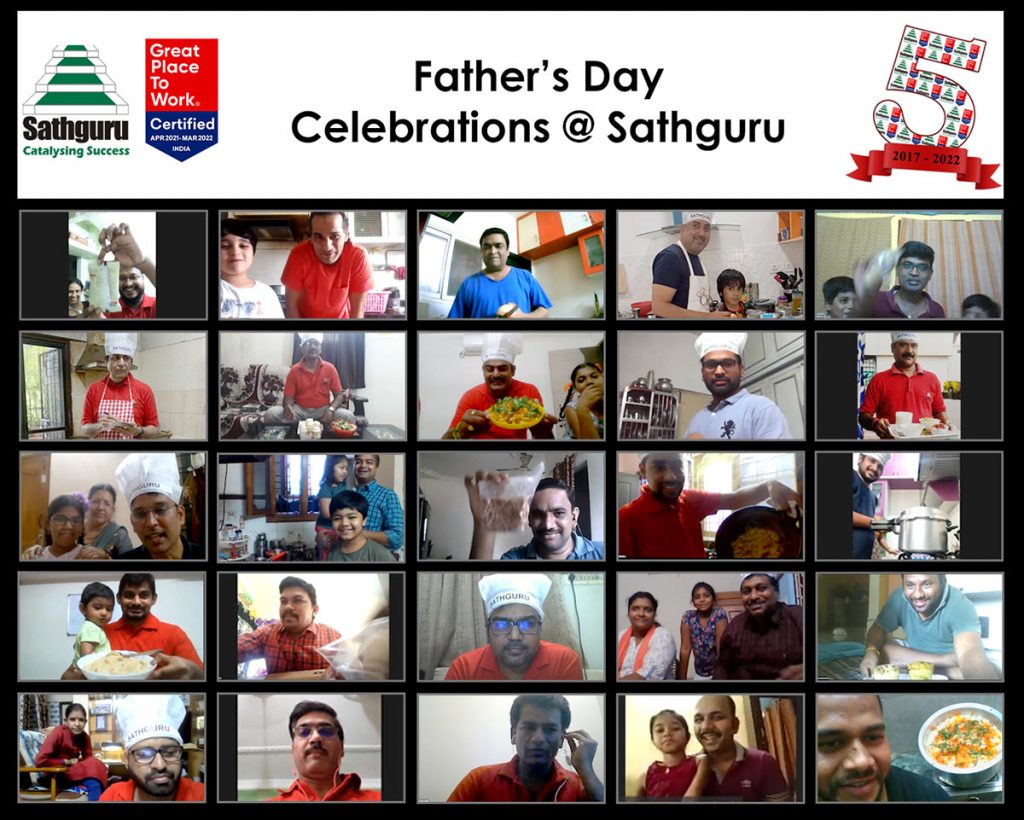 God couldn't be present everywhere to take care of his beloved children. Hence, he sent two Angels to do his job for him – we know them as parents.
Dad, papa, nana, baba, abbu…Whatever they may be called by, their value in our lives is the same – IMMEASURABLE.
A father's love is unique – they treat their children like prince and princess. Though fathers pretend to be unaware of kids' love for chocolate biscuits, they stock- up the kitchen with a variety of them. When kids need someone to fight for them and be at their corner, fathers present a united front with them and set things right.
Dads hardly speak a lot. But deep down, everyone knows if they mess up big-time, their fathers – the first superheroes- will pat them on the back, smile and say, "it's okay, we'll work this out."
Sathguru paid a tribute to all the amazing fathers of Sathguru family, by celebrating the occasion virtually on June 20, 2021. We had an astounding participation from our enthusiastic associates, their families and curious neighbours, who accentuated the charm of the celebrations with their cheerful smiles and lively presence.
A comedy video marked the start of the much awaited event and was meant to lighten everyone's moods. The excitement built up with every moment, as the celebration unfolded. The happiness of all the fathers knew no bounds when they received their customised 'magic boxes', from the office. The camera captured their zeal as they unwrapped their presents. And surprise, surprise…there were a plethora of food ingredients that were unboxed to everyone's utter amazement. But that was not all… there was much more coming their way !
The Sathguru dads were given 15 minutes to ponder over and decide which dish they wanted to prepare, while ensuring it was cooked with the ingredients they had received in the 'magic box'. The fathers accepted the challenge promptly, put on their chef's caps, and crafted delicious starters, main-course and desserts. The fathers' kitchen queens and adorable kids proactively gave expert advice while the dads were in action – each wishing and geared towards their hubby or dad being titled 'master chef of the day' !
The father's day celebration turned into an exhilarating family celebration, as every dish was brought to life with love and utmost care. Each kitchen was spotlighted to give the audience an opportunity to get a full view of the cooking zone, feel the excitement in the air, taste the decadent dishes and take a whiff of their exotic aroma, vicariously- oh my… was it tantalising ?! It most certainly was !
Some of the show stoppers were dishes like oats cutlet, aaloo tikki, pakodis, pasta, biryani, roasted makhanas, pasta kheer, and the traditional rawa kesari, oats upma, and payasam too. Wow! What a spread! And that too in a span of only 40 mins! While the dads were at action, the compères engaged the audience with mind boggling riddles and games, keeping them on their toes, till the plats- du- jour were served ! All the dishes were truly a sight to behold !
Amidst a life of seclusion imposed by the COVID- 19 pandemic, the celebrations rendered a much needed break from the associates' monotonous work routine, and gave them respite from the humdrum of their daily grind. This virtual event allowed the associates, their families and their colleagues to unwind and bond with each other. The father's day celebrations at Sathguru was unquestionably one of the most fun and frolic filled evenings that will be a part of everyone's sweet memories for the years to come…
Cheers to all the loving and highly spirited fathers !