Sathguru Management Consultants, India wins the prestigious "GREAT PLACE TO WORK" Certification", A Hat-trick achievement – Wins certification three years continuously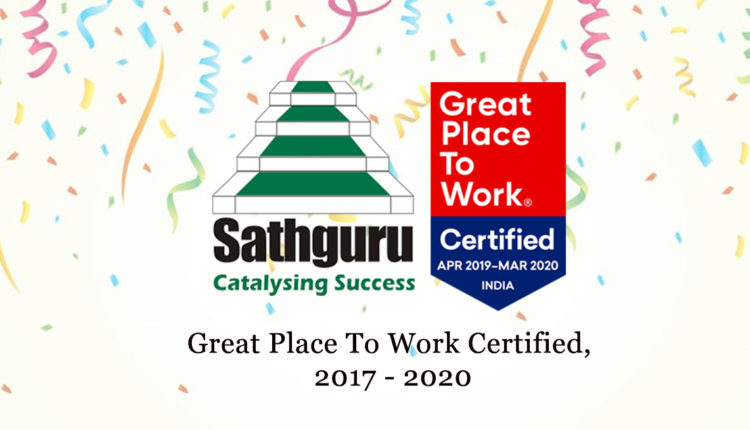 Sathguru is one of the exclusive advisory firms in India that combines industry leading strategy, corporate finance, M&A and innovation practices. Sathguru is also recognized for its differentiated international development practice known for its unique model of innovation led development and software products group that has been focused on innovative vertical focused ERP products since inception.
Every year, more than 10000 organizations from over 60 countries partner with Great Place to Work® Institute for assessment and benchmarking their workplace culture. Only those organizations that meet or exceed the Institute's pre-defined norms related to employee feedback scores (measured through Trust Index©) and people practice scores (measured through Culture Audit©) get Great Place to Work-CertifiedTM – considered the Gold Standard in workplace culture assessment.
"We are honoured to be recognized, for third consecutive year in a row, a great place to work. This reinforces the great culture that we have and nurture at Sathguru" said Ms. Hemalatha, Founder Director of Sathguru Management Consultants. "Sathguru is committed to maintaining a culture that values continuous learning, spirit of innovation, teamwork and multi-disciplinary ideation. We invest in our associates and our associate bring the best to catalyse success for our clients"
This ranking is based on anonymous survey results that focussed on Sathguru's culture, leadership, communication, clarity and challenges.
"As a premier management consulting company, at Sathguru, we are committed for our associates to contribute, grow and flourish in the journey to innovative delivery to our clients and we continuously strive to create a work environment conducive to achieve above goals while each & every associate thoroughly enjoy & imbibe the Sathguru Culture" said Murali Mohan Kapila, Head, HR. "Our associates have a penchant for delighting our customers and that's the ultimate which every company looks for in this competitive world"
Sathguru strives to enhance human capital capabilities through varied challenging client assignments drawn from all continents of the globe and a congenial and engaged work culture is one important part of overall human capital advancement strategy that Sathguru practices.
First Published in : The Fast Mail