ABSPII takes part in the exhibition held during the International Conference on Plant Biotechnology for Food Security: New Frontiers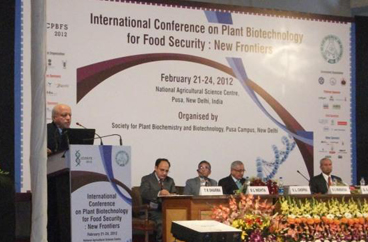 The International Conference on Plant Biotechnology for Food Security organized by the Society for Plant Biochemistry and Biotechnology was held from February 21–24, 2012 at the National Agricultural Science Centre (NASC), Pusa, New Delhi, India and was attended by about 500 delegates from India and about 200 delegates from abroad. The four-day conference saw several discussions on the global population which is projected to reach the 9 billion mark by the year 2050, making food security the most important social issue in times to come. There were several rounds of discussion, plenary sessions, talks, lectures and presentations concerning issues related to food security, nutrition and health. Apart from the academic discussions and talks, there were poster sessions and exhibition in the NASC campus. Several industry leaders from across the globe put up their stalls to display their products and achievements.
The Agricultural Biotechnology Support Project II (ABSPII), a gold sponsor of the exhibition, took part in the conference by putting up a stall and exhibiting its accomplishments during the last few years. The exhibits of ABSPII focused on the safe and effective development and commercialization of bio-engineered crops as a complement to traditional and organic agricultural approaches.
The ABSPII stall was visited by several scientists, individuals and organizations interested in knowing more about the project, its outreach, its impact on farmers and society and its accomplishments. Many of the visitors enquired on the growing challenges in agriculture and the measures that could help meet the food requirements of the huge world population, increasing at an exponential rate. Several visitors also enquired about the activities that Sathguru Management Consultants was involved in. The conference not only provided an opportunity to get updates on the latest developments in the field of plant Biochemistry and Biotechnology, it helped explore several path-breaking research areas/opportunities.
The conference involved several sessions on Molecular Breeding, Bioinformatics, Nano-biotechnology, etc. by eminent scientists. There were fabulous presentations on regulations and politics concerning transgenic crops and politics in India involving GM crops. There were discussions on the biosafety regulatory bill and its impact on the society and the Indian biosafety regulatory system, apart from sessions on Golden Rice, misconceptions surrounding genetically modified crops and the need for new regulations on GM crops.