After the implementation of the Hatch Waxman Act in 1984, a cornerstone development in shaping the US generics industry, there has been a transformational increase in the number of generic drug applications and approvals over the years. More recently, the Generic Drug User Fee Act (GDUFA) has also ushered in more conducive timeliness in generic drug approvals, providing further fillip to US generics drug industry.
2019 – The Year in Focus
2019 recorded about 1,033 ANDA approvals, comparable with previous year at 1022 approvals and a whopping 87% increase from the year 2015 (667 approvals)
Top 10 companies accounted for about 35% of all approvals in 2019
6 out of top 10 ANDA approval holders in 2019 are of Indian origin
Mylan, Teva and Amneal came out as top performers by volume of approvals, with 40+ approvals each.
| | |
| --- | --- |
| Top 10 Companies | # ANDA Approvals, 2019 |
| Mylan NV | 59 |
| Teva | 55 |
| Amneal Pharmaceuticals | 42 |
| Cadila Healthcare | 40 |
| Sun Pharmaceutical Industries Ltd | 34 |
| Aurobindo Pharma | 33 |
| Alembic Pharmaceuticals Ltd | 28 |
| Lupin | 23 |
| Alkem Laboratories | 23 |
Growing industry focus on more complex formulations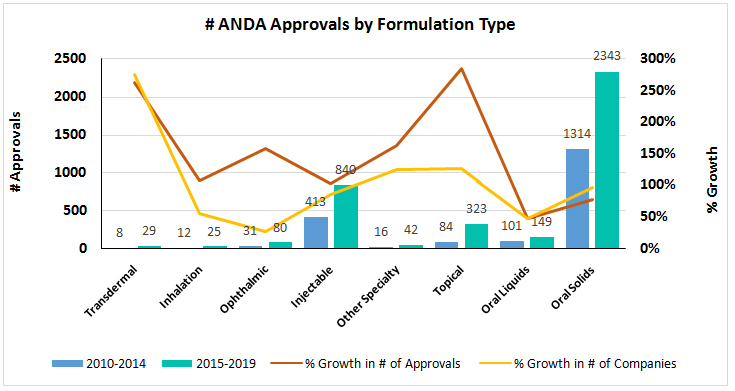 There has been a substantial growth in ANDA approvals for transdermal and topical formulations followed by other specialty (implants, rectal, nasal, intratracheal, etc.) and ophthalmic products in the last 5 year period. As seen in the chart, the same growth trend is also reflected in the number of competitors active in different formulation types, with more new entrants in more complex formulation types.
It is clearly evident that there is an increasing industry appetite for targeting more complex formulations that would help bypass first pass metabolism and are easy to administer, with relatively leaner competition
Indian Generic manufacturers – Steeper foray into complex formulations than other peer groups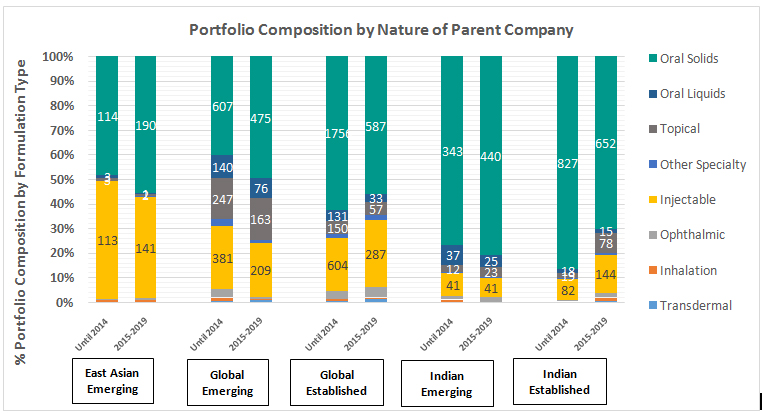 The above chart represents time trends (all approvals until 2014 vs past 5 year approvals) on portfolio composition of companies classified by geography of origin and nature of companies. The nature of parent companies (including ANDAs held by subsidiaries) established or emerging, specifically pertaining to the generics industry is classified based track record of approvals in the past 5 years, as follows.
| | | | |
| --- | --- | --- | --- |
| Company Classification | # Approvals in past 5 years | Geography of origin of Parent Company | # Companies in the category |
| East Asian Established | >50 | China, Hong Kong, Japan, South Korea | 0 |
| East Asian Emerging | <50 | China, Hong Kong, Japan, South Korea | 59 |
| Global Emerging | <50 | US, Europe, ROW | 290 |
| Global Established  | >50 | US, Europe, ROW | 9 |
| Indian Emerging | <50 | India | 50 |
| Indian Established | >50 | India | 9 |
Oral solids continue to dominate the portfolio of all peer groups, followed by injectable in terms of volume of approvals. All emerging peer groups continue to focus heavily on oral solids.
In general, global emerging companies are seen to have the most diverse portfolio spread across different formulation groups and exhibit highest approvals in inhalation and other specialty categories.
East Asian emerging companies have high focus on injectable formulations and oral solids, with limited participation in other categories.
In the past 5 year period, Indian established companies have steered away from oral solids and built stronger capabilities in formulations other than oral solids, compared to peer groups. This is reflected in considerable reduction of share of oral solids in portfolio composition in 2015-2019, as compared to that in approvals until 2014.
Increasing Competitive Intensity in First Time Generics – Sharing of 180 day Para IV Market Exclusivity
While on one end companies are stepping up their generics play, operating in more complex formulations with leaner competition, on other end, there is increasing competitive intensity in targeting earlier market opening for generics, especially in case of blockbuster drugs. This is evident from growing rigor in filing for tentative approvals and paragraph IV certifications.
Paragraph IV certifications is a unique FDA pathway in place to allow for healthy competition and ushering in generic drugs ahead of market opening timelines wherein a generic drug maker can challenge or invalidate patents protecting novel drugs, thereby making way for generic drug entry. The main incentive behind going after para IV certifications is the eligibility to attain 180 day market exclusivity for the generic drug, which could yield a significant competitive edge on large value blockbuster drugs before the doors are thrown open for other follow on generics from other competitors. While the pathway has been in place for many years, generic drug companies are embracing it with such fierce gusto in the recent past that even the short exclusivity is being shared by several entities. The table shows some of the drugs for which multiple para IV certifications were filed in the period 2017-2019.
| | | |
| --- | --- | --- |
| RLD/ NDA | Number of Para IV Applications filed (2017-2019) | Innovator Drug Market Size ($ B)* |
| Tecfidera | 29 | $ 4.3 |
| Entresto | 19 | $ 1.0 |
| Jublia | 19 | $ 0.3 |
| Rexulti | 18 | $ 0.2 |
| Trintellix | 17 | $ 0.3 |
| Kerydin | 13 | $ 0.8 |
| Opsumit | 12 | $ 1.0 |
| *Source: Innovator annual reports and public disclosures |   |   |
While some are obvious blockbuster opportunities, such as Tecfidera (Dimethyl Fumarate) for relapsing multiple sclerosis, with as high as 29 companies holding Para IV certifications, some niche smaller market opportunities have also attracted multiple para IV filings for quicker market entry
India remains a prominent hotspot for USFDA approved facilities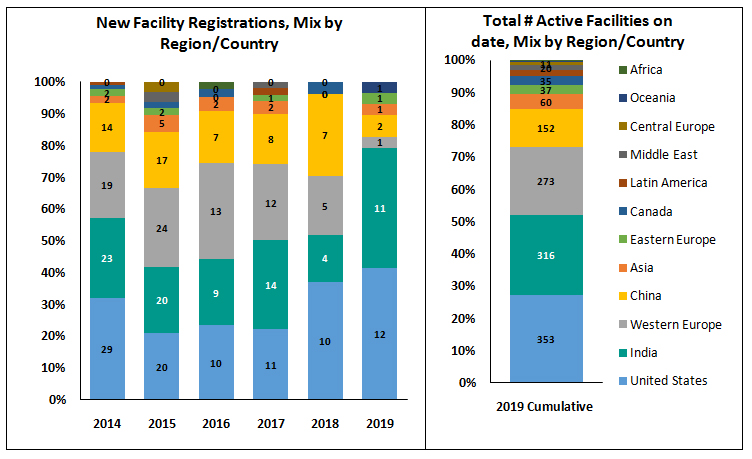 As on date, over 70% of FDA approved facilities are concentrated on 3 regions – US, India and Western Europe. Around 53% of the facilities that were active in 2019 focussed on APIs, followed by 29% facilities for Finished Dosage Forms (FDF).
With continuing high focus on US market generics compounded with favourable economics for large volume manufacturing, India continues to be the most prominent destination for USFDA approved facilities and second only to US. In 2019, this trend continued, with India contributing to around 40% of new facility registrations (11) in the world just tailing behind the US which had 12 new facilities registered. China had a declining trend since 2015 falling to just a single new facility registration in 2019.
GDUFA II Impact on FDA facility fee renewals – Record High Discontinued Registrations in 2018, normalized in 2019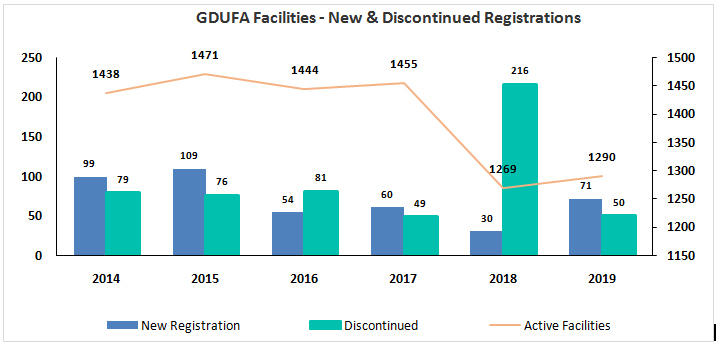 The number of new facility registrations expectedly peaked in 2014 post the introduction of GDUFA I Act in 2012 and has shown a downward trend over the past few years to 30 facilities in 2019, signifying maturity in markets. The GDUFA facility payment discontinuations were steady between 2014 and 2019 with exception to 2018 which recorded an all-time high discontinuations of 216 facilities spanning across different regions.
The significant spike in facility discontinuations is the result of GDUFA II enactment in October 2017which introduced an additional ANDA program fees for ANDA holders under a 3-tiered structure based on number of ANDAs sponsored – small (1-5), Medium (6-19), and Large (20+ ANDAs)
While this new development triggered several generic drug manufacturers to withdraw ANDAs that were either discontinued from marketing/ approved and not marketed, this also cascaded in cessation of user fees for the facilities that were referenced in those ANDAs. While the rate of discontinuation more or less normalized in 2019, the drop in total number of active facilities for the year is yet to bounce back to pre GDUFA II levels.
Overall, being one of the largest pharma opportunities globally, the US generics industry continues to remain vibrant with activity, marked by increasing competitive intensity. As cutthroat competition intensifies, more mature and established companies are actively looking for alternate less competitive growth avenues beyond US generics industry. Yet, as the quest for trimming healthcare costs continues perennially, the lure of the generics market is expected to continue.
---